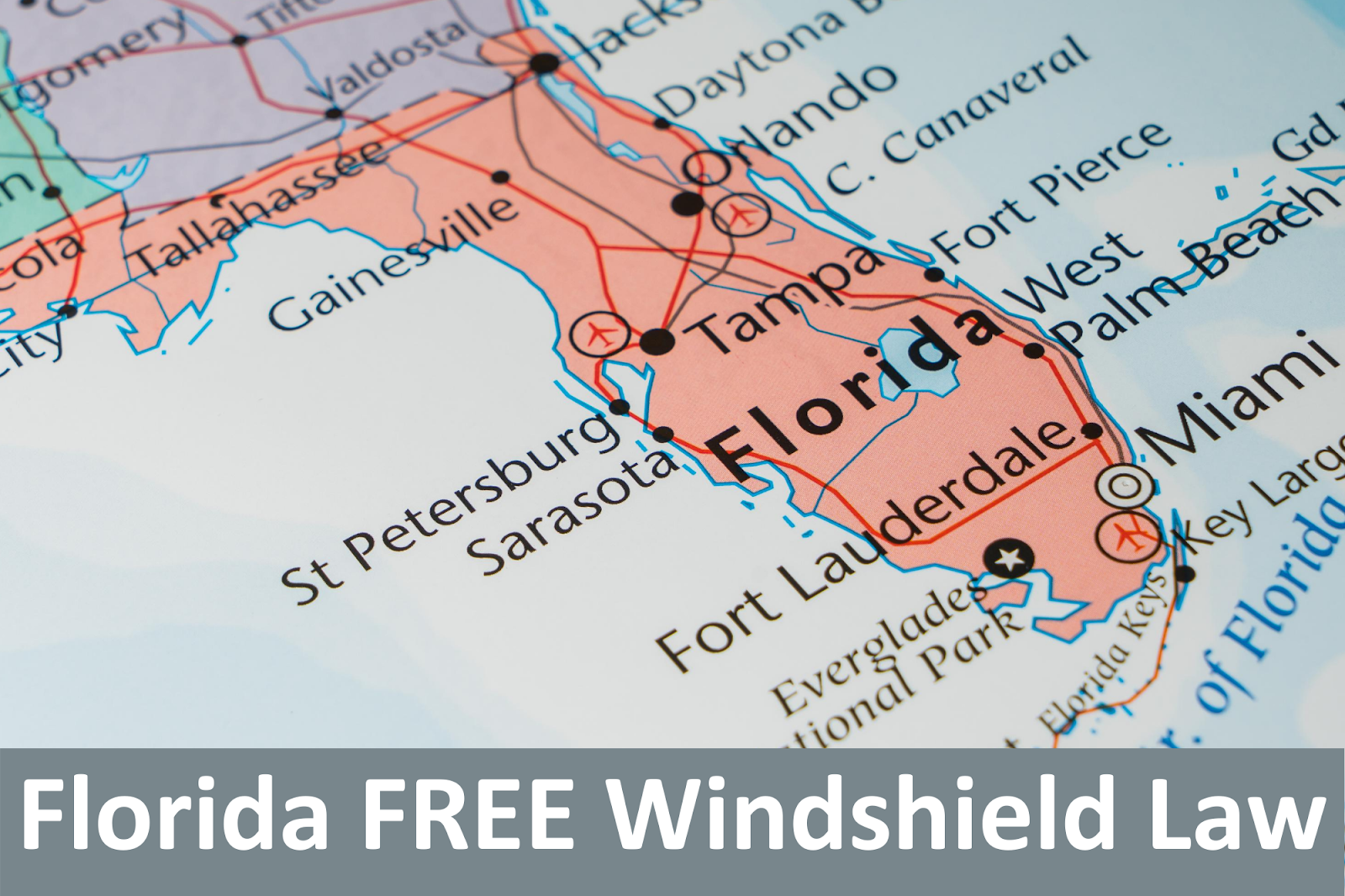 Sooner or later, every driver will need an auto glass replacement or repair. Florida drivers who have to deal with an auto glass replacement will discover that the Sunshine State has specific statutes governing windshield replacement. These Florida windshield replacement laws determine how much your insurance company will have to pay and responsible for the deductible. Florida windshield law is very kind to the vehicle owner, who will have to pay zero dollars out of pocket, making it a free windshield replacement.
Florida has hundreds of attractions that people, including residents and tourists, flock to all year long. Our incredible assortment of destinations is famous across the U.S.A., including to the residents of Florida cities like Tampa and St. Petersburg on the Gulf of Mexico, Jacksonville to the north, Daytona Beach on the east coast, Orlando, and Kissimmee in Central Florida, and of course, The Villages. Arriving at your destination is thrilling, even if you live in a great city like Winter Park, Winter Garden, or Altamonte Springs.
Still, it's easy to forget the impressive landscape and sights all over the state if you have glass damage to your windshield. However, if you need a windshield repair, you'll spend more time staring at the crack or getting a ticket from a highway patrolman than you will spend enjoying your surroundings. For that reason, it is crucial that you understand the Florida windshield laws and how they relate to your insurance deductible when you need a windshield replacement in Florida.
---
Free Windshield Replacement in Florida
Florida's statutes are a bit more complicated than the rules of most states. Still, the most important law for windshield replacement is Florida Statute 627.7288, which states that an insurance deductible may not be applied to motor vehicle glass when it comes to comprehensive coverage. It further says, "the deductible provisions of any policy of motor vehicle insurance, delivered or issued in this state by an authorized insurer, providing comprehensive coverage or combined additional coverage shall not apply to damage to the windshield of any motor vehicle covered under such policy." Click here to read the statute.
It is illegal to drive a vehicle with a broken windshield, back glass, door glass, vent glass, or quarter glass in Florida. Ask Orange Blossom Auto Glass about your deductible options with a damaged windshield in Florida. Insurance companies must waive the deductible for glass repair or replacement, so those drivers needing an auto windshield replacement with a comprehensive policy are covered. You are not responsible for paying any fee or deductible in the state's eyes if you require repair or replacement of your windshield.
Should an object hit and damage your windshield, all you need to do is call Orange Blossom Auto Glass, and they will process the claim with your insurance company. You always have the right to choose your favorite auto glass company. Don't let your insurance company decide for you. Quality and expertise are essential. Orange Blossom Auto Glass will file your insurance claim and arrange for one of their technicians to come to your home or place of business to do the work.
Read on for more information to shed some light on the process that Orange Blossom Auto Glass uses throughout Florida in places like Lake Mary, Davenport, Apopka, and Sanford.
Expert Windshield Replacement in Florida

You pay nothing for an insurance claim based on Florida law. That doesn't mean you'll get poor service or inferior parts if you choose the right auto glass shop. Orange Blossom Auto Glass uses only the highest quality OEM glass and the best adhesives for every windshield replacement.
All major insurance companies consider us a preferred auto glass provider. Our nationwide lifetime warranty shows that our commitment to your satisfaction is our most significant concern. There are never any hidden fees for mobile services like other companies may try to slip in, such as sales tax or waste disposal.
Orange Blossom Auto Glass employs only expert technicians with an average of over 25 years of experience in the trade. There are, however, questions that many motorists have. Here are a few questions we often hear:
Question: Who should I call first to set up the replacement?
Answer: It's best to call Orange Blossom Auto Glass first. We will simplify the procedure for you by filing your claim with your insurance company. We'll take care of all the paperwork, which will result in less interaction between you and the insurance provider. We put the ease in easy when it comes to auto glass replacement.
Question: Would my rates increase if I filed a claim with my insurance company? 
Answer: Auto glass is covered under the comprehensive portion of your policy for accidents or events outside of your control, so you are not penalized for these auto glass claims, and your rates should not increase. In all of our years of experience in this industry, we have never heard of rates increasing for auto glass insurance claims.
Question: Am I only allowed to receive one free windshield per year? 
Answer: No. Although you may have heard this, it is not true. According to Florida Statute 627.7288 requirements for windshield deductibles for insurance companies, they must replace the glass as often as necessary if you carry comprehensive insurance. It is unsafe and illegal to drive in Florida with a broken windshield that obstructs your view. Your windshield helps to hold the vehicle's frame together, making it an integral part of its safety system.
Question: Can I choose who does my auto glass replacement? 
Answer: Yes, you absolutely can and should. You don't let your health insurance company dictate who your family's primary care physician is, and they shouldn't tell you who you use to replace your vehicle's windshield.
Question: Do you also repair or replace other auto glass too? 
Answer: Yes, Orange Blossom Auto Glass is staffed with experts qualified to handle any auto glass.
We recognize that everybody needs their vehicle for routine transportation or to go intrastate to one of Florida's great destinations in today's world. We usually can handle your auto glass replacement or windshield repair within one business day. Our technicians are certified and have an average of 25 years of experience.
If you need your windshield or any other glass replaced or repaired, contact us. We'll make sure you get the best service, top quality parts, and the best price, including any waived deductible you're entitled to. We cover the entire state of Florida with free mobile service. Don't hesitate to get in touch if you need our services.